After 26 Years Sonora Cost-U-Less To Close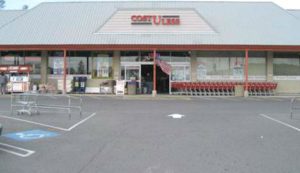 Cost-U-Less-Sonora

View Photos
Sonora, CA — Customers of the only Cost-U-Less in the continental U.S., located in Sonora Plaza Shopping Center, will no doubt be disappointed that it will soon shutter its doors.
Officials with The North West Company, which operates the warehouse club-style groceries-plus retail Cost-U-Less chain, announced Wednesday that its location on Mono Way will be shuttering on March 31.
In a press release, the company president, Dan McConnell, stated, "This store is no longer economically viable, which resulted in the decision to close the store. These types of  decisions are difficult as they impact our associates, who have worked hard to serve our  customers for many years." He added, "On behalf of The North West Company and the staff and management at Cost-U-Less Sonora, we would like to thank our associates for their dedication and our customers for their support over the years."
Clarke Broadcasting contacted the Sonora store, which is run by 17 employees, all of who are full-time. Store officials confirmed they had been contacted earlier in the day about North West's decision and also indicated that the Sonora Walmart expansion had significantly cut into business.
Sonora Store Was Among The First Locations
The history of Cost-U-Less in the Mother Lode goes back over a quarter-century — to the chain's origins — which came about after a Costco buyer and a group of investors joined forces. The first Cost-U-Less store on the island of Maui, Hawaii in July 1989. Most of the original inventory was purchased from the Costco in Honolulu. Even though Cost-U-Less paid retail prices, the merchandise still sold at prices lower than were locally available on the island and yielded profit margins of 17 to 18 percent.
That success formula enabled quick growth and by the early to mid 1990s, more stores opened in Hawaii, the Caribbean and a few on the U.S. mainland, including Sonora, reportedly due to an investor's local roots. However, over the years only the Sonora location remained open. At various points the chain expanded to other exotic locales, such as New Zealand.
In 2007, North West, which describes itself as a leading retailer to underserved rural communities and urban neighbourhood markets in Northern Canada, Western Canada, rural Alaska, the South Pacific islands and the Caribbean, purchased the chain.
As of Wednesday afternoon, the company had removed mention of the Sonora location from the corporate website, editing the Cost-U-Less description to now read: offering discount food and general merchandise products to island communities in the South Pacific and the Caribbean.