College Stand Out From Sonora Prepares For NFL Combine, Draft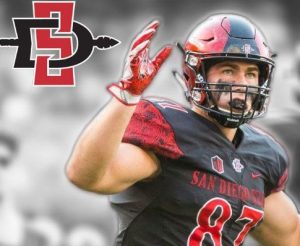 Kahale Warring Twitter announcement detail

View Photos
Sonora, CA – While Super Bowl LIII may be the biggest day all year for many, National Football League fans in the Mother Lode have more to cheer for in the weeks ahead as a former Sonora Wildcat makes his way through the NFL Combine and Draft.
Since declaring his intentions by Tweet on Dec. 27, native Sonoran and standout tight end for the San Diego State University (SDSU) Aztecs, Kahale Warring has been training hard to attain his dream of becoming a Division 1 athlete.
A junior this year, he acknowledged in his announcement, "It is very difficult to leave my closest friends and the Aztec community, but I believe the time is right to enter the 2019 NFL draft…I am excited for what the future holds and the challenges that will come along the way."
Initially a freshman walk-on with only one year of high school football experience in his senior year, Warring was a multi-sport athlete for the Wildcats who had before that devoted more time playing basketball, where he was a Mother Lode League MVP. He also played water polo, tennis and competed in swimming and running events. His father, Sonora Wildcats Basketball Coach Lloyd Longeway, acknowledges that Kahale has been a strongly focused, competitive athlete his whole life; even as a ten-year-old cross-country runner, when he ranked 12th in the nation.
From Walk-On To Star Scholarship Player
After winning a spot as a red-shirt tight end on the Aztec team, Warring pushed on, earning an athletic scholarship — which he calls his proudest accomplishment to date — and becoming a starter. Wearing #87, the 6'6" 250 pounder in the 2018 season had 31 150-plus yard receptions for 372 yards and 3 touchdowns in the nine games he played.
Now preparing for the invitation-only NFL Scouting Combine in Indianapolis, which runs Feb. 26-Mar. 4, Warring will do his level best to stand out among just over 300 of the other top college football players in the nation who are eligible for the draft.
During the process, described as an "intense, four-day job interview," all the athletes undergo extensive evaluations, trials and interviews by league executives, coaching staffs and other personnel from all 32 teams. This year, the combine will be broadcast live Mar. 1-4 with the tight end prospects taking the field along with quarterbacks and wide receivers on Day 2. The NFL Draft is slated for April 25-27 in Nashville.
Longeway admits, "[Kahale] getting the Combine invitation was a super weight off our backs and pretty exciting. The way I understood it, to be an under classman and to get invited to the Combine, you have to have like five teams that are interested and want to see you, at least. So, that means there is definitely some interest from some teams that want Kahale to be their tight end."
Draft Preparations A Family Affair
Kahale and the Longeways emphasize their gratitude for all the coaches at SDSU and in Sonora. Feeling blessed as a family, Longeway adds that his wife Nichole has been right there on the front lines, doing all the necessary research that went in ahead of their son's decision, including helping line up Irvine-based REP1 sports agency to represent him. "Four years ago we would have never thought that this was going to happen – that he would be working to become a professional football player, but we are super excited for the opportunity that he has, and we are very proud of him," Longeway states. "It is going to be an interesting journey, to see where he is going to end up with what team that he will land on. We are hoping he will end up somewhere that he enjoys."
Taking a brief break from his training schedule in Irvine to talk with Clarke Broadcasting, Warring says he is razor-focusing these next weeks on doing and bringing everything he can to the Combine. Mornings start early, around 6:30, and are full of body work, running and drills. Training with the other REP1 players, his coaches include 17-year NFL veteran wide receiver Ricky Proehl, who played in four Super Bowls and won two. He also served as an assistant coach for the Carolina Panthers.
His mindset, he says, "I just thought I was ready to take this step to go on and show what I can do and take the step towards the NFL. I just felt ready and that it was the best [move] for me, for myself. I am just really proud to be from the town of Sonora. I have really learned a lot coming out of a small town. It's just been great to grow up there."
About the journey ahead he confides, "It was always my goal and it was always my dream to be a Division 1 player." Laughing a bit, he adds, "And I am going to be honest, I didn't always know that it was going to be football, but it has played out that way and I wouldn't want to change it to be any other way."
View photos of Warring in action by clicking into the image box slideshow.