Newsom Proposing Juvenile Justice Reforms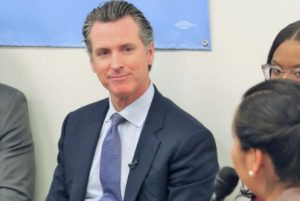 Governor Gavin Newsom

View Photos
Sacramento, CA — New California Governor Gavin Newsom is asking the state legislature to remove the Division of Juvenile Justice from the California Department of Corrections and Rehabilitation.
He says it would be the first step in changing the culture of the state's juvenile justice system. Newsom says the state should focus its energy more on helping youth develop career skills, as opposed to just incarceration.
The Governor states, "Juvenile justice should be about helping kids imagine and pursue new lives — not jumpstarting the revolving door of the criminal justice system. The system should be helping these kids unpack trauma and adverse experiences many have suffered. And like all youth in California, those in our juvenile justice system should have the chance to get an education and develop skills that will allow them to succeed in our economy."
Related to the change, Newsom is proposing $2-million be set aside for a program that will allow AmeriCorps members to help mentor youth released from facilities. In addition, $100-milllion in new revenue is proposed to go for screenings for adverse childhood experiences and early childhood trauma. The hope is that early intervention can help keep kids out of the criminal justice system.
Newsom's newly appointed Surgeon General, Dr. Burke Harris, a pediatrician, will help raise awareness about the benefits of early interventions. The California Surgeon General position was created earlier this month under Newsom.
Instead of being overseen by CDCR, Juvenile Justice would now fall under the California Health and Human Services Agency.