Update: Hit Bicyclist In Critical Condition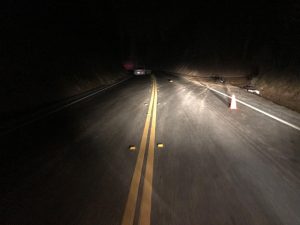 Stockton Rd East of Mill Villa Ct site of serious bicyclist accident Jan. 26 2019

View Photos
Update at 2pm: The Sonora police chief has shared a few more details regarding a tragic vehicle versus bicycle collision that occurred after dark over the weekend.
Chief Turu VanderWiel states that the injured bicyclist is a 51-year-old man with a Jamestown address and that as of Sunday night he remained in critical condition. The specifics of the crash are reported in the original story below. Recounting further details, he states, "It appears that the bicyclist did have on dark clothing and there was no indication that there was any working lighting equipment on the bicycle."
Continuing, he confides, "I think that most people, even if they know they are at fault, will stop and do the right thing and we sure appreciate that. There are a select few…who unfortunately make the wrong decisions in those situations…in this situation, it appears that the driver of the vehicle truly did not see the danger approaching and could not have avoided the collision."
The chief emphasizes, "These are my preliminary thoughts on this investigation…there is still a lot we do not know but it certainly doe not appear that there is any violation on the driver's side, and we are thankful that the driver pulled over and offered assistance and cooperation with us. This is a tragic event, not just for the unfortunate bicyclist, who sustained significant injuries, but the driver because that is a rough thing to have to go through."
Acknowledging that Stockton Road is an area with an increased amount of foot traffic, Chief VanderWiel cautions pedestrians to stay well off the travel portion on the roadway shoulder. "As a pedestrian, you are supposed to walk against traffic…making eye contact with the vehicle traffic closest to you — and only cross when it is safe to do so."
For drivers, he says, "Just try to take it as slow as possible and be aware of your surroundings. In this particular case, I do not think that the driver had any indication that there was a bicyclist crossing the road — and that it happened so quickly."
Original Post at 1:18pm: Sonora, CA — Police say a vehicle versus a bicycle collision that occurred in the dark this weekend has landed one person in the hospital with major injuries.
According to Sonora Police, the accident occurred on Stockton Road east of Mill Villa Court Saturday evening just before 6 p.m. and the victim, flown to a hospital for treatment, remains listed in critical condition. Reportedly, the victim was attempting to cross the road when he was struck.
At this point the names of the victim and driver have not been publicly released. Officials say that the driver of the vehicle, who stopped at the scene, is cooperating with the investigation. They add that more details will be released as the investigation continues.