Update: Crash Destroys Power Pole In Copperopolis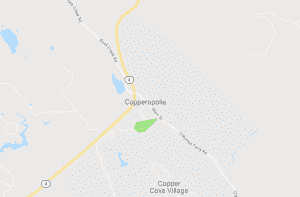 Copperopolis Power Outage

View Photos
Update at 10:27am:  The CHP has released more information about a crash this morning that damaged a power pole on Reeds Turnpike near O'Byrnes Ferry Road.
57-year-old Chris Benardo of Copperopolis allegedly lost control of his Toyota pickup truck when he encountered a slight turn in the road and he collided with the power pole. The pole broke and completely blocked Reeds Turnpike. 50-year-old Steven Aubrey was traveling 50 yards behind Benardo in a Ford Focus. Aubrey swerved to avoid the falling pole and instead ran into downed power lines. No injuries were immediately reported. Clean up is expected to continue until at least noon today.
Update at 8:25am: The CHP reports that Reeds Turnpike, from O'Byrnes Ferry Road to Jackson Street, will remain closed until around noon. PG&E is working to make repairs to a damaged power pole.
Original story posted at 6:18am: Copperopolis, CA — There are 11 PG&E customers without electricity in Copperopolis after a crash took out a power pole earlier this morning.
It happened around 2:05am along Reeds Turnpike. PG&E is hoping to have full power restoration by around 3pm. The CHP reports that two vehicles were involved in the crash that damaged the pole. An ambulance responded to the scene, but it is unknown the extent of any related injuries. Reeds Turnpike, just west of O'Byrnes Ferry Road, is closed due to power lines in the roadway. You will need to avoid the area this morning. We'll pass along more information as it becomes available.