PG&E Arranges For Billions In Bank Loans Ahead Of Bankruptcy Filing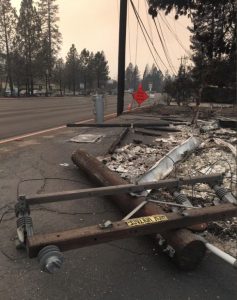 Camp Fire Destruction

View Photos
Sonora, CA — Pacific Gas and Electric, the nation's largest utility, has lined up $5.5 billion in credit and loans so it can continue operating while preparing for bankruptcy.
Associated Press reports that in a regulatory filing made in New York on Tuesday, PG&E stated that it secured commitments from JPMorgan Chase, Bank of America, Barclay's Bank and Citigroup Global Markets.
PG&E earlier stated that it faces $30 billion in potential damages from lawsuits filed in relation to wildfires that ignited over the past two years. It supplies gas and electric services to about 16 million Californians, about 40 percent of the state's population.
Without the new financing, the utility could have problems accessing capital. In the two months following the latest deadly California wildfires, including the Camp Fire that decimated the town of Paradise, PG&E stock lost more than 80 percent of its value and the S&P slashed its credit rating to junk status. Under the financing proposal terms, the new creditors would reportedly be given a high priority for repayment in bankruptcy proceedings.
As reported here, following the resignation of PG&E CEO Geisha Williams on Jan. 13, the utility announced on Jan. 14 plans to file for Chapter 11 bankruptcy, adding that the filing for voluntary reorganization would come on or about Jan. 29. The company is required to give employees at least a 15 day-notice before a change in corporate control. Under bankruptcy protection, all the wildfire claims would reportedly be consolidated into a single proceeding that would come before a bankruptcy judge.
In response to PG&E's intentions to file for Chapter 11, Governor Gavin Newsom publicly stated he and his office was monitoring the impact of the utility's existing and potential future liability. He added in the months ahead he would be working with the legislature and all involved stakeholders towards ensuring consumer access to safe, affordable and reliable service, fair treatment of fire victims, and continued progress toward the state's climate goals.