Actor's Homecoming Illuminates Theatrical Plans Afoot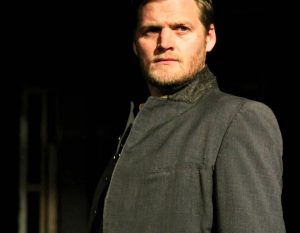 Robbie Allen plays a returning Confederate soldier in Murphy Creek Theatre's The Whipping Man 2019

View Photos
Murphys, CA — An L.A. actor resettling into his Mother Lode roots plans to help further elevate the local theatre scene.
The new Murphys Creek Theatre (MCT) Artistic Director, Robbie Allen, a Sonora High graduate and veteran of Sierra Repertory and Stage 3 theatre companies, has spent the past several years establishing a Hollywood film and TV career. He is excited for the homecoming.
Hired last fall, Allen's physical presence will be front and center for theatre fans beginning Feb. 8, when he will appear in MCT's first production of its 2019 season, The Whipping Man. Allen describes the drama as a powerful, three-actor play set during the immediate aftermath of the Civil War. "It is not politically driven but it is one of the most amazing plays I have ever read," he enthuses.
In it, Allen plays a wounded returning Confederate soldier who arrives home to find it in ruins and nearly abandoned, save for two former slaves who stayed on, awaiting the family's return. The production, directed by Don Bilotti, also stars actors Dwight Mahabir, last seen on the MCT stage in 2018's production of Driving Miss Daisy, and Levi Lowe, a recent Sonora High graduate known for representing the State of California in the national Poetry Out Loud finals.
Right Place, Right Timing
Allen says his new post came out of a visit last fall during which he saw a MCT performance of The Foreigner, spoke with director Maryann Curmi about renovations going on at Black Bart Theatre and the potential need for an artistic director. "It made me nostalgic, thinking about working with all of these very, very talented people," he recalls.
"Coming back was very easy…something about the time in my life and I had been in L.A. for seven years with some successes, periods of not working and the draw of a solid job and a good fit," he laughs, adding that he is still periodically traveling south. "I have built up as good of a base as I can and I still get pretty steady work…I don't ever really want to abandon that and the board seems flexible with me going back and forth and pursuing both careers."
Allen says he has also planned a good mix of solid productions in the year ahead. They include Barefoot in the Park, Moon Over Buffalo, Romeo and Juliet, and holiday whodunit comedy, The Game's Afoot. He confides that his primary goal is to bring Murphys up a level onto a regional scene platform. "I have a lot of friends and talent in L.A. we are bringing them up here, housing them…and stretching our talent pool…to bring in a consistent stream of professionalism and build on the quality and professionalism of the 2018 season," he states.
The building itself has over the past several months undergone a massive restructuring. "The whole thing is being renovated and updated so we can accommodate all the changes coming in," Allen says proudly. He adds that word of mouth seems to be spreading and internal audience polling is showing the influx of Bay Area and Sacramento patron-visitors is on the rise.
Locals may be interested to hear that, beginning next month, the theatre company will begin offering educational programming for ages ten and up. "We are going to have acting classes, dancing classes, and stage combat classes for the community and aspiring actors…or if you just want to get out of your shell, we will have some improv classes as well," Allen says happily. Admitting the reasons are not entirely altruistic, he confirms it will facilitate finding and steering local talent who may be interested in getting professional direction. For more details, click here.