Roadwork on Highways 108, 49 and 120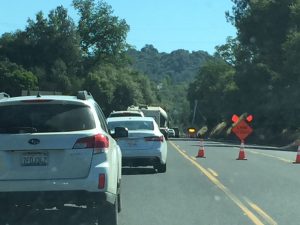 Roadwork

View Photos
Caltrans urges motorists to be prepared and use caution when driving this
winter. Here is a list of their scheduled highway work.
In Tuolumne on Highway 49 at Jack Page Road (see map below chart) all the way to the Tuolumne/Calaveras county line expect 10 minute delays for an area of one-way traffic control as a Caltrans works on road striping. The work is scheduled between 8PM and 6AM beginning Sunday night and each evening through Friday morning weather permitting.
Several areas of drainage work on Highway 120 will shut down one lane of traffic causing 10-minute delays. The areas are on Highway 120 from the Stanislaus/Tuolumne County Line to HWY 49 and at Moccasin Creek Bridge. The work is scheduled, weather permitting, beginning this Sunday at 8PM with night and day shifts working all week through Friday afternoon. On HWY 120 at Ferretti Road there will also be one-way traffic control for utility potholing. Utility potholing removes an area of the road to install or access a utility and later fills it back in after it is done.
Other Highway Roadwork:
| Highway | Days | Location/Area | Reason | Estimated Delay |
| --- | --- | --- | --- | --- |
| HWY 4 | Mon – Thur | West Bridge Cherokee Creek | 6:30AM to 5PM One-way traffic control for core drilling | 10 min |
| HWY 49 | Tue-Wed | Lumber Ave to HWY 12 | 7AM to 5PM expect some stops for overhead utility work | 5 min |
| HWY 49 | Wed & Thu | Angels Creek to North Bret Harte | 7AM to 5PM The right shoulder will be unavailable due to utility work | 5 min |