Forest Management In California Sparks Debate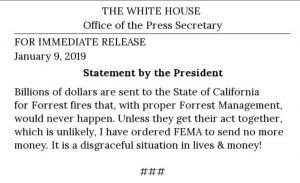 Presidential Statement Regarding FEMA Response In California

View Photos
Washington, DC — President Donald Trump issued a statement this morning threatening to eliminate FEMA funding for California unless changes are made soon regarding forest management.
The official press release from President Trump reads, "Billions of dollars are sent to the State of California for Forrest fires that, with proper Forrest Management, would never happen. Unless they get their act together, which is unlikely, I have ordered FEMA to send no more money. It is a disgraceful situation in lives and money!"
Shortly after the statement, Governor Gavin Newsom responded by saying, "Disasters and recovery are no time for politics. I'm already taking action to modernize and manage our forests and emergency responses. The people of CA—folks in Paradise—should not be victims to partisan bickering."
The President did not immediately release specific details regarding changes he would like to see made.