Sonora Bean Feed Tradition Continues This Friday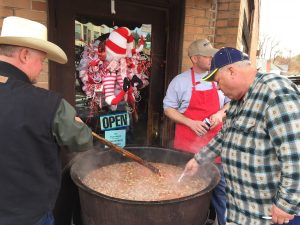 The 30th Mutz Bean Feed in Downtown Sonora Dec. 15 2017

View Photos
As a Christmas gift to the community, Galen Mutzner served beans in downtown Sonora on the third Friday of December for exactly thirty years.
Jim Phelan, President of the Tuolumne County Sportsmen, was Wednesday's KVML "Newsmaker of the Day".
It was thirty one years ago on a Friday before Christmas, that Mutzner set up a pot on a sidewalk in downtown Sonora and began serving beans for free to anyone who stopped by and wanted them.
Over the years, the event began to catch-on and it soon became an annual tradition for workers and the general public in downtown Sonora.
Rain, drizzle, freezing temperatures, sleet and sometimes snow never stopped the free Mutz´ Bean Feed. It was once estimated that over 700 people attended the Bean Feed.
Last year at the age of ninety, Mutz called it quits.
Mutzner said, "I began the bean feed by saying that I would serve beans for 30 years. And after thirty years, I brought it to an end. It was my party and I did this for as long as I wanted."
So is the bean feed over? Most assumed it was.
However, the Tuolumne County Sportsmen are informing everyone that they will continue the bean feed tradition. And they have asked Mutzner himself to ring the bell at noon, the start of the bean feed.
According to Phelan, "We will learn a lot with this being our first year, but Mutz will be there along with numerous others who used to volunteer for this event. We are really looking forward to continuing this great Christmas tradition in downtown Sonora.
The Bean Feed will begin at noon this Friday and it will be followed by the traditional Pop Hudson Sing at 12:45, at Courthouse Park in Sonora.
The "Newsmaker of the Day" is heard every weekday morning at 6:45, 7:45 and 8:45 on AM 1450 and FM 102.7 KVML.