Support Voiced For Park Foundation Plan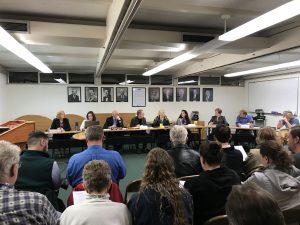 Sonora High Board Meeting

View Photos
Sonora, CA — At a special meeting held by the new board of the Sonora Union High School District, community members were again allowed to voice their opinions about the sale of 112 acres of the Wildcat Ranch to the Park Foundation.
The decision to sell all but 25 acres was made earlier this month prior to the swearing in of new board members Jim Riggs, Nancy Scott and Erik Andal. Since it was before they took office, the new board wanted to review the sale, and allow for more public comment. Last night 19 people gave their opinion about the issue. 12 were in favor, six were opposed, and one was indifferent.
Park Foundation board member Roger Haughton was the first to comment and stated, "We should be working together, park and ag, to build an environment that is beneficial to all."
Other people who spoke in favor included park board members Gail Witzlsteiner and Jay Canavan, former Twain Harte School Board member Terry Northcutt, Tuolumne County Business Council Executive Director Ron Kopf and supervisor-elect for District Three Anaiah Kirk.
Shaun Crook, a noted member of the agriculture community, was the final speaker, and gave a passionate speech about a lack of a plan for utilizing the remaining 25 acres, and how the money will go directly to the school's general budget for any purpose deemed necessary. He also noted that if the district sells the historic dome downtown it may become necessary to add the adjacent Cassina property in the deal. If so, the district would need more property for a new alternative education campus.
Others opposed to the sale argued that the district is being short sighted in giving up a valuable asset.
At the end of the public comment period, some board members noted they were conflicted about the sale. Board President Jim Riggs stated that there were parts of the sale he finds "regrettable," but it will be the board's directive to make sure the park foundation makes good on its intent and are accountable. He also called for the creation of an educational master plan, and facilities master plan, involving the community, so there is a clear direction for the district moving forward.
The park foundation will pay $1-million for the 112 acres to build a community park. It is situated near the intersection of Tuolumne Road and Wards Ferry Road.