Report Details Firefighters' Close Calls Battling Camp Fire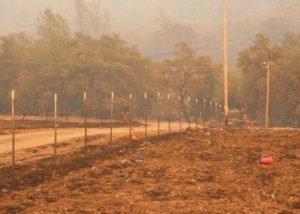 Rattlesnake Flats Road where firefighters were overrun by the Camp Fire flames

View Photos
Butte County, CA — A newly released report details how firefighters escaped the flames of the deadly Camp Fire and the harrowing conditions they faced during their close call with death.
The report released Thursday by the California Department of Forestry and Fire Protection relayed the how five firefighters were injured in the Camp Fire. The report details how three firefighters, two prison inmates and a fire captain, trying to set back fires in the Butte College area, were overtaken by the fire on Nov. 8th.  They were on Rattlesnake Flats Road, a dirt road lined by barbed wire fences on both sides. The two inmates got tangled in the fences when running away from the fast moving flames. In the report one of the inmates stated, "I hurdled over the fence, the tool in my pack caught the fence, I fell face down." His hair, beard and mustache caught on fire and her suffered burns to his face and neck. The other inmate collided with the fence and his face and neck were burned by the flames. He moved along the fence until he was able to find an opening and crawled through it to safety. The captain remained on the roadway as the fire passed. He sustained serious burns to his hands, arms, face and neck and was released from the hospital just last week, according to CAL Fire.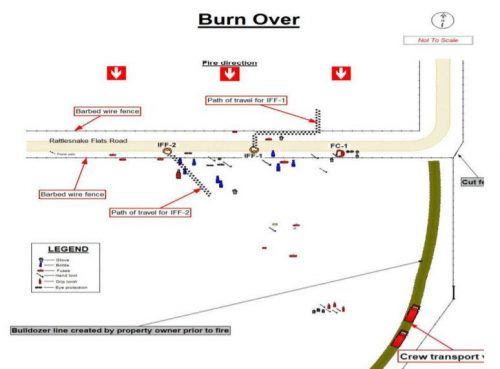 Early in the morning the next day (Nov. 9), another fire captain and firefighter protecting homes in the Magalia area were injured when a propane tank exploded near them sending shrapnel flying at them.
The report also likened the flames that swept through the community of Paradise to a WWII bombing of a German city, citing, "An 'urban firestorm' began to spread from building to building, independent of the vegetation, similar to the firestorm that consumed Hamburg, Germany in 1943."
Of note, all evacuation orders have been lifted in Paradise, the town nearly wiped out by the Camp Fire, more than a month after the deadly blaze broke out in Butte County. The death toll stands at 86 people and 14,000 structures destroyed. This will be the first time many residents get to see their property since fleeing the firestorm.
To view the full report click here: 18-CA-BTU-016737-Camp-Green-Sheet
Of note, all evacuation orders have been lifted in Paradise more than a month after a devastating wildfire that wiped out the Northern California town