Two Alleged Meth Dealers Arrested In Two Traffic Stops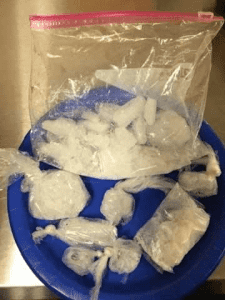 TCSO Evidence Photo from Brown Meth for Sale arrest Dec 2 2018

View Photos
Sonora, CA – Deputies arrested two motorists for possession of methamphetamine for sale over the weekend.
Late Friday, following a deputy's Highway 108/49 traffic stop in Jamestown due to a driver impeding traffic in a vehicle with an obstructed license plate, the driver, 59-year-old Dawn Ellis of Delhi was arrested after a search of her truck and belongings turned up more than 71 grams of meth and psilocybin mushrooms. She was also in possession of a meth pipe, multiple empty plastic bags, a digital scale, and over $4,000 in cash.
Early Sunday morning, another deputy attempted to make a traffic stop on a car that drove through a Jamestown Road closure after noticing an expired registration. The driver, who reportedly failed to stop for the deputy, quickly turned into a driveway of a home in the 18400 block of that road and bolted from the car. He was subsequently identified as 45-year-old Michael Brown of Oakdale and arrested. Following a vehicle search, investigators recovered a digital scale and 165 grams of meth.
Ellis and Brown now face several related felony and misdemeanor drug charges; both assigned $40,000 bails.