TUD, Tribe Collaborate On Wildfire Prevention, Forest Resiliency Project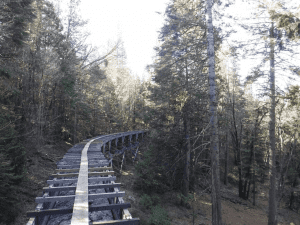 Tuolumne Utilities District flume at the Tuolumne Main Canal

View Photos
Sonora, CA – A lot of literally, helping hands are now working to protect a Mother Lode water district's historic flume and canal system from wildfire damage.
Tuolumne Utilities District (TUD) is collaborating with the Tuolumne Rancheria Me-Wuk Fire Department on related activities within the Lyons-South Fork Watershed Resiliency Project. Slated work begins this week, utilizing Rancheria Fire Department Tribal Fuels Crews' services to hand-thin trees along the Tuolumne Main Canal located off South Fork Road in Twain Harte.
"The Tribe has made a commitment to ensuring that the Rancheria and surrounding communities are protected from fire," states Jon Otterson, executive director of the Tuolumne Band of Me-Wuk Indians, further commenting that the tribe considers the commitment as a true honor.
The project goal is to help protect the PG&E-owned main canal, reducing wildfire risk and damage while improving forest resiliency. The conveyance system is both historic and primary — used by TUD for delivering water to 90 percent of Tuolumne County's residents.
In the event of wildfire destruction to a flume section, TUD officials predict it would halt for a significant amount of time drinking water delivery service to about 44,000 residents served by the system along with commercial and industrial businesses.
PG&E and Sierra Pacific Industries are the primary private landowners within the project, which initiated in June 2017, and have been busy removing dead and dying conifers and ladder fuels. Other partnering agencies include the USDA, Stanislaus National Forest, the Highway 108 FireSafe Council, and California Conservation Corps. TUD, the project applicant, received nearly a half-million dollars in state Prop 1 (Water Quality, Supply and Infrastructure Act of 2014) grant award funding through the auspices of the Sierra Nevada Conservancy (SNC).