USDA Floods Funds To Aid California's Water Supply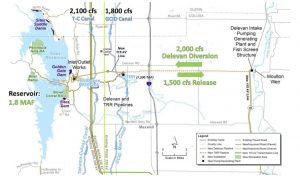 Sites Reservoir Project map

View Photos
Maxwell, CA – A new flood of funding is expected to pump up California's water supply issues and bring hundreds of jobs as well to the Sacramento Valley.
Ahead of a tour of the Sites Reservoir Project proposed in Colusa County by several top U.S. officials, U.S. Secretary of Agriculture Sonny Perdue announced a $449 million grant to help build an innovative water management system to make California water supply more reliable. It will also produce more than 560 jobs, according to Perdue, who will be accompanied on the tour by U.S. Secretary of the Interior Ryan Zinke and Assistant Secretary of the Army for Civil Works Rickey "R.D." James.
Touting that this follows President Donald J. Trump's memo to promote a reliable supply and delivery of water out west, Perdue stated, "Modern and reliable water infrastructure is the backbone to prosperity in the Sacramento Valley and across our nation. Under the leadership of President Trump, USDA is committed to being an ally to innovative leaders taking action to rebuild rural infrastructure in California and beyond, which is why we are investing in projects like the Maxwell Water Intertie,"
The funds will go towards the Maxwell Water Intertie, which will connect the Glenn-Colusa Irrigation District Main Canal with the Tehama-Colusa Canal via a pipeline. The waterway will then be used to pipe runoff from the Sacramento River into the proposed 1.8-million acre-foot Sites Reservoir that will have nearly double the capacity of Folsom Lake.
"The Maxwell Water Intertie will increase the efficiency and reliability of water management in the western Sacramento Valley by adding to and improving existing water infrastructure to facilitate greater flexibility in water conveyance, which would increase the drought resistance of rural communities and help to support our region's agricultural economy," explains Jim Watson, General Manager, Sites Project Authority.
To help regulate flows, the project also includes the construction of a new 1,200 acre-foot Terminal Regulating Reservoir to be built adjacent to the Glenn Irrigation system's Main Canal. Click here for a Regional Water Authority Sites Project update.