Thanksgiving Holiday Weekend Events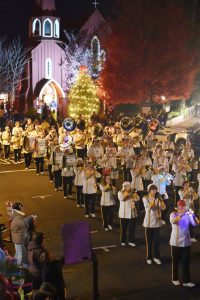 33rd Annual Christmas Parade

View Photos
Sonora, CA — Mother Lode residents and visitors have a lot events to choose from this holiday weekend, from free, open-to-the-community Thanksgiving feasts, to winter holiday kickoff fun.
Here's a rundown of this holiday weekend's highlights…
On Thanksgiving Day, Before the feasting the 12th Annual Klassen Klassic Turkey Trot, begins at 9 a.m. at downtown Murphys Park. Serious competitors arrive at 8 a.m. nonperishable food donations requested, details are here. Christian Heights Church and The Heart Rock Coffee Company and Jamestown will offer meals as detailed here. Sonora United Methodist Church is holding its annual Bill Dunlavy community potluck dinner from noon until 3 p.m. details are here. In Arnold, a free Community Thanksgiving Dinner is also being served from 1 to 4 p.m. by the Ebbetts Pass Loyal Order of the Moose at the Moose Lodge on Blagen Road.
Friday Festive Fun
Consider working off extra Thanksgiving helpings by taking part in the Run or Walk at Sonora High's Wildcat Ranch from 9 a.m. until noon. Some wild turkeys and deer may be out as well, pets are not allowed at the ranch which is located at the corner of Tuolumne and Wards Ferry roads. Donations for the event support the Sonora High School Cross Country Team. More details are here.
Sonora's Historic Downtown Christmas Parade starts at 6 p.m. with downtown streets, including Washington Street, to close at 5:30pm on Friday, November 23. There will be no parking on Washington Street starting at 4pm. The Tuolumne County Transit Holly Trolley will be running free shuttles every 15 minutes between The Junction Shopping Center and downtown from 3:30 until 5 p.m., and again from 6:30 until 8 p.m. At the Sonora Opera Hall enjoy the two day 26th Annual Crafters Faire.
At the Mother Lode Fairgrounds from 10am to 5pm Friday and Saturday and 10am to 4pm on Sunday is the 44th Anniversary of the Sonora Christmas Festival. Over 150 craft artists, music, street performers, costumed elves, decorated trees and brightly colored craft halls, carolers,and  a wide selection of home-cooking style festival kitchens and bake shops. Admission price details are in our community events guide here.
Participate in the Mother Lode's first ever escape room with friends and family on Friday in Sonora. Solve a collection of unique puzzles and escape the lab of a missing government (mad) scientist. All puzzles were made by MakerLab member Anthony Edmonds at MotherLode MakerLabs. Details are here.
An Old Fashioned Tree Lighting and Holiday Celebration is also slated from 4 to 7 p.m. at  Copperopolis Town Square, which is part of a two-day fun fest highlighting family-friendly activities. Saturday's schedule will run from 12:30 to 7:30 p.m. Among the attractions are arts, crafts and food vendors, live music and photo opportunities with Santa and Mrs. Claus.
Friday is also when Bear Valley Mountain Resort holds its Opening Day Winterfest Celebration. Also in Calaveras enjoy the Christmas in White Pines Parade of Lights which will begin at 7 p.m. down Blagen Road. Their gazebo is all decorated for Santa too.
In Groveland, the Southside Community Connections will host their annual Holiday Market at The Little House. Details are here.
Saturday Happenings
Saturday morning, beginning at 9 a.m., Mountain Ranch Community Club will host the 33rd Annual Christmas in the Country Craft Faire, Bake Sale & Luncheon, which will be staged at the Community Hall. Details are here.
Those interested in burning more calories are invited to reserve a spot to take part in the Giving Thanks to Nature Hike along Angels Creek Trail in the Glory Hole Recreation Area. Sponsored by the Bureau of Reclamation, the moderate-level, 2.5-mile roundtrip hike will commence from the Glory Hole Entrance Station at 10 a.m. details are here.
The City of Angels 28th Annual Winter Wonderland Parade of Lights will line up outside St. Patrick's Catholic Church at 3:30 p.m. and then lead off at 5 p.m.  From 4 until 8 p.m. the city's Christmas Open House and Wine Stroll will also be underway. The event listing is here.
Too, the Dorrington Christmas Tree Lighting and Visit with Santa will begin at 5 p.m. in the Dorrington Hotel parking lot. The tree will be lit at 6 p.m. have some cookies, enjoy the music and something hot to drink plus holiday jingle hay rides.
For even more community happenings, including local theatre events, click here and then onto the date you are interested in checking out.