Dispute Over Man's Best Friend Escalates Into Arrest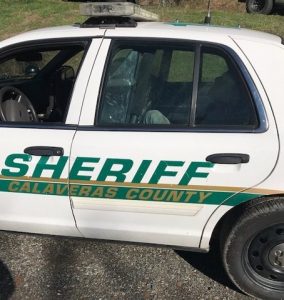 CCSO patrol car

View Photos
Valley Springs, CA – A Campo Seco man was arrested after allegedly stealing a dog from a backyard and then fleeing the area — but not before smashing his pickup into another truck and flashing a gun at those trying to stop him.
The altercation happened on Thursday just before 5 p.m. at a home in the 2000 block of Dale Drive in Valley Springs. When Calaveras County Sheriff's Deputies arrived at the house a witness identified 45-year-old Edward Pereira as the suspect. The woman relayed that Pereira snuck into the backyard via an unlocked gate and snatched the canine. While jumping into his truck to take off, a relative of the woman's boxed Pereira's pickup in the driveway with his truck.
Sheriff's officials detail that the suspect threw his vehicle in reverse and rammed the other truck; sending it crashing into a neighbor's mailbox. While fleeing the scene, the witnesses say that Pereira brandished a black handgun and swerved at them.
Deputies found Pereira in the truck with the dog and the firearm in Campo Seco. During questioning, he told deputies the incident erupted over ownership of the pooch. Pereira now faces charges of assault with a deadly weapon, robbery, vandalism, felon in possession of a firearm, and of ammunition. His bail was set at $145,000.