Incoming Calaveras Supervisors Prioritize Ending 'Divisiveness'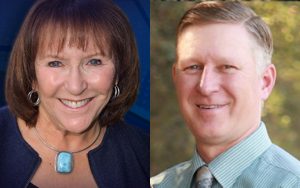 Calaveras County District 3 and 5 Supervisors Elect Merita Callaway and Benjamin Stopper

View Photos
San Andreas, CA — By the end of Election Night, it appeared that challengers unseated two incumbent Calaveras County supervisors.
Representing the Jenny Lind area, District 5 Supervisor Clyde Clapp, who served a year after recalling and successfully seeking the seat of his predecessor Steve Kearney, was handily defeated 62 to 38 percent by Benjamin Stopper, a wastewater treatment plant operator for Calaveras County Water District.
"This past year has been a concentrated learning experience for me," Stopper shares with Clarke Broadcasting. "I have talked to thousands of people throughout Calaveras, mostly in District 5. I just really…want to thank the community for coming together as strongly as they did backing me, and my family for supporting me. It shows that people want to work forward into the future."
Asked for what was at the top of his list come his swearing in this January, he readily replies, "One of the things that we need to get done is the General Plan for Calaveras County. It has been an issue for many years and we are going to have to come to a mutual understanding and work together so we can get past some of our divisiveness and get good things like that done, so we can make progress in the community as a whole."
It's Back In The Saddle For A Former Supe
Following a 57 to 43 percent vote in favor of his opponent, incumbent District 3 Supervisor Michael Oliveira was defeated by Merita Callaway, who previously served as that district's longtime supervisor before he ousted her four years ago.
Already she says, her phone is ringing with short-term requests from Ebbetts Pass corridor constituents that she is adding to her "honey, do" list. Looking ahead, she states, "I am very excited to be back on the board and to work with the residents…and the county staff on solving things."
Callaway continues, "I think we have been very divisive as a county and have wounds to heal, and we are going to be moving on. I am up for the challenges and I believe that the residents…are also up for the challenge of coming together again, however that shakes out."
Get all the election results and the latest on the races still too close to call by clicking here.