Escalating Altercation Leads To Multiple Felony Charges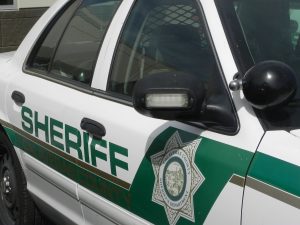 Calaveras County Sheriff

View Photos
San Andreas, CA – A local man faces four felonies following a reported assault on a female.
According to Calaveras County Sheriff's spokesperson Sgt. Rachelle Whiting, the victim reported the recent early morning incident, which occurred in the 4000 block of Buckboard Lane in Campo Seco, as an altercation involving multiple subjects, including 42-year-old Steven Williams of Valley Springs.
Williams allegedly arrived on the property, yelled for the residents to come out and fight him, and reportedly damaged a trailer there. During a subsequent verbal altercation, Williams allegedly threatened others on scene, pushed the victim to the ground, and brandished a firearm.
Sgt. Whiting adds that as deputies arrived to investigate a sergeant located Williams nearby on Watertown Road and arrested him on felony charges of making criminal threats, battery with serious bodily injury, conspiracy to commit a crime and vandalism along with a misdemeanor charge of exhibiting a firearm after which he was booked into the Calaveras County Jail.