New Details On Sonora Apartment Fire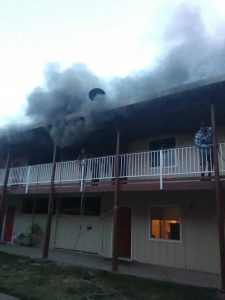 Fire at the Mark Twain Apartments in Sonora
Sonora, CA — Three families and residents in two apartment buildings were evacuated after flames ripped through one unit.
The flames broke out around 6:30 p.m. at the Mark Twain Apartments located in the 300 block of Fairview Lane, off of Stockton Road in Sonora. The two story building had smoke pouring out a second floor apartment when firefighters arrived, as seen in the video in the image box. Resident Donna Gibbs details what she witnessed, "I came outside and I saw two little boys and they were getting ready to call their dad and I saw the smoke coming out of their apartment. They said that the fire was in the closet." She adds that 911 was called and firefighters made it to the scene quickly, stating. "They told everybody to go out into the parking lot and remain there until its safe." Putting her hands together as if to pray, Gibbs shared, "I just thank God that everybody is okay."
Firefighters were able to extinguish the flames in about 20 minutes. On scene for the Sonora Police Department, Sgt. Tim Wertz details the damage to the structure, "Pretty much the whole apartment is heavily damaged, The downstairs apartment has water damage and then the upstairs one, the whole apartment has both fire and smoke damage."
Wertz adds that the fire is not considered suspicious, but what sparked the flames is still under investigation.
A special thanks to our community partners Isaac Bisset and Kari Mata.