Nearly $2 Million In Illegal Marijuana Destroyed At Two Sites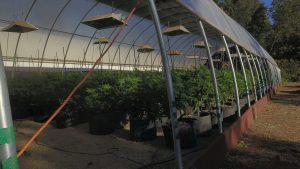 Highway 26 Glencoe Marijuana Grow Raid Oct 18 2018 CCSO Photo

View Photos
San Andreas, CA – While the outdoor growing season for illegal marijuana is in full swing, Calaveras County enforcement officials are scampering to eradicate as many grows as they can with available resources.
As Sheriff Rick DiBasilio confides, "We are up in the air flying a lot with National Guard, the Forest Service and private entities to locate these illegal grows — there are still a bunch of them out there." He estimates the number of large-size ones as somewhere between 400 to 500. In figuring out how to prioritize the sites, he says that ahead of having research and legwork complete, the team takes into consideration the number of community complaints, the potential for environmental damage and other impacts.
"We have been doing about two to four [grows] a week…it is about a fifty-fifty split…registered growers who chose not to leave and the other fifty percent were grows that were never registered, never tried to process at all – just flat out illegal – so we have been busy."
This Week Targeted Two Grows In Glencoe
Yesterday, DiBasilio reports that the Calaveras County Sheriff's Marijuana Enforcement Team served a search warrant in the 16,000 block of Highway 26 in Glencoe. Arrested on scene was 40-year-old San Jose resident Hieu Nguyen, charged with felony counts of possession of marijuana for sale, maintaining a drug house and conspiracy to commit a crime along with a misdemeanor count of possessing more than six pot plants. Removed and destroyed were 387 plants in various states of maturity and size, estimated at $774,000, based on a rough estimate of $2,000 per plant. Also eradicated was 16 pounds of processed marijuana, with an approximate street value of $40,000, using $2,500 per pound as a valuation number. The team also seized two firearms.
On Wednesday, the team served a search warrant at a second Glencoe property located in the 600 block of Ealey Road, seizing and destroying 48 pounds of processed marijuana, including some processed into various forms of edible items. The rough value estimate was $120,000. Additionally, 455 marijuana plants were removed from a grow site on which an attempt had been made to disguise it as a corn and vegetable garden. The approximate street value totaled about $910,000.
DiBasilio states that team members heard two persons fleeing into the surrounding wooded area prior to the arrival of investigators, who collected evidence at the scene. An investigation is continuing into who may have been involved. In the absence of an owner on site to claim nine puppies found there, Calaveras County Animal Services took them for sheltering.
This particular grow, according to DiBasilio was among what he calls "repeat customers," as the team busted the location back in July, and looked to have begun operations again within the past two months. During the July incident, officials seized and destroyed 736 marijuana plants, 100 pounds of processed marijuana and 198 pounds of marijuana edibles and took a high-powered rifle as evidence.