Sewer Project Underway In Twain Harte's Eproson Park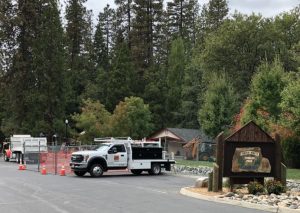 Sewer Line Replacement Project In Twain Harte

View Photos
Twain Harte, CA — An $86,000 sewer line replacement project will impact Eproson Park in Twain Harte over the next few weeks.
Twain Harte Community Services District General Manager Tom Trott tells Clarke Broadcasting that a section of 50-year-old line is being replaced.  He says, "It's vitrified clay pipe which is highly susceptible to root intrusion, and over the years it has also sagged, and when you have a sewer line that sags it doesn't flow through very well. It has caused a lot of backups in the park."
Trott adds, "It's a fairly difficult project because it goes through an area where there are several degraded storm drains and culverts, and it is about 10 feet deep."
The new sewer line will be 6-inch PVC, which Trott says will be far less susceptible to sags and root intrusions.
The project is near the outdoor stage area in the park, so the area has been fenced off. Trott says the project is tentatively scheduled to run through November 3rd. The district awarded the construction contract to Petersen Excavation.