CCWD Appoints Interim General Manager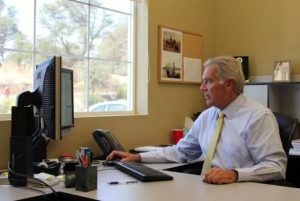 Jeffrey Meyer

View Photos
San Andreas, CA — With General Manager Dave Eggerton departing at the end of the month, a familiar face will lead the Calaveras County Water District over the short-term.
The CCWD board has appointed Jeffery Meyer to serve as Interim GM until a permanent replacement is hired. Meyer has been serving as CCWD's Director of Administrative services over the past decade.
CCWD Board President Scott Ratterman says, "I don't expect CCWD will miss a beat under Jeff's leadership. He's very familiar with the district and the board has full confidence in him."
Meyer spent much of his youth in the Sacramento area and graduated from Stanford University in 1978.
We reported earlier that Eggerton is departing for a position with the statewide Association of California Water Agencies.
The board of directors has begun the recruitment process for a permanent GM and candidate interviews are anticipated to take place before the end of the year. CCWD, the county's largest water district, supplies water to over 13,000 customers.