Calaveras Sheriff's 'Operation Terminus,' A Major Pot Sting, Brings National Recognition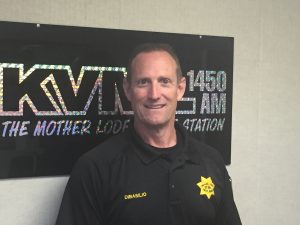 Sheriff Rick DiBasilio

View Photos
San Andreas, CA – The Calaveras County Sheriff's Office is the recipient of a prestigious international award recognizing the departments' commitment to battle environmental crimes related to cannabis crops.
Sheriff Rick DiBasilio and his office have been awarded the International Association of Chiefs of Police (IACP) "Chief David Cameron Leadership in Environmental Crimes Award.," which is based upon the work and results from the "Operation Terminus" investigation in 2017. This is the first time a Sheriff from Calaveras County has ever received an award from the IACP. With a big smile, Sheriff DiBasilio tells Clarke Broadcasting that it is a "great honor" and he gave credit to his department and everyone involved.
The operation was a six month long multi-agency investigation that began at the end of July of last year, as earlier reported here. The 23 plus raids carried out in the county involved illegal marijuana grows that garnered numerous arrests relating to marijuana cultivation and environmental crimes. DiBasilio describes one disgusting site, "There was one area in particular that the building was never permitted to be there. There was no septic…They had cut a hole in the middle of it and they [growers] were using that for their facilities, It was going right down the embankment into a creek." He adds, "There was garbage piled up four feet high by six or eight feet wide. It was probably 20-25 feet long where they just kept throwing their trash."
Operation Terminus resulted in the arrest of over 35 suspects, over 27,000 marijuana plants and 25 tons of marijuana seized or eradicated over the actual four days of raids. The searches also produced 11 firearms with the serial numbers removed, an assault weapon, body armor and over $7,000 in cash. Regarding the success of the operation DiBasilio beams, "Operation Terminus made a huge impact because we saw a lot of the illegal grower leave the area because they didn't know who was going to get hit next. Once the ban came into play in June of this year, most of the other ones, a good portion of them have left. Overall our marijuana production in this county is probably a third of what it was back in 2017 and I attribute it to Operation Terminus."
The sheriff heads to Orlando, Florida next month to pick up his award, all expenses paid by the IACP.
Of note, the other departments involved in the investigation include the California Department of Fish & Wildlife, the California National Guard Counterdrug Task Force, California State Water Board, Central Valley Regional Water Board, Calaveras County District Attorney's Office, California Highway Patrol and Cal Fire.