CCWD To Seek New General Manager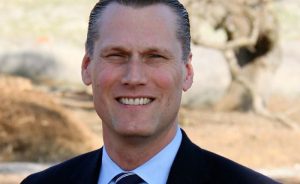 Dave Eggertorn CCWD GM leaving for position as ED of ACWA

View Photos
San Andreas, CA — The head of Calaveras County's largest water district has given notice that he is taking a state-level position he is describing as "a dream come true."
Calaveras County Water District (CCWD) officials are sharing word that its general manager, Dave Eggerton, announced on Friday that he agreed to become the executive director designate of the Association of California Water Agencies (ACWA) and will be assuming those new duties beginning Nov. 1.
"While I'm sad to see him go, he is moving into one of the most prestigious positions in the California water industry and congratulations are certainly in order," CCWD Board President Scott Ratterman comments. The adds that Eggerton will continue working through the end of October and that the board plans to select an interim general manager at its Oct. 10 meeting. In the meantime, the formal recruitment process is underway.
The nation's largest statewide coalition of public water agencies, ACWA membership includes about 450 public agencies, who are collectively responsible for about 90 percent of the water delivered to California's cities, farms and businesses.
Eggerton, who has served as the CCWD general manager for the past four years, states, "As excited as I am to embark on this new journey, it's bittersweet. I have had such a fantastic experience working with CCWD's talented staff and board members, and I am very proud of the accomplishments we have achieved together."
Ratterman notes, "I have a great deal of confidence in the district's management team and I expect the transition to our next general manager will go very smoothly. We have a very capable staff, and Dave is leaving the District in good hands."