Bust Nets Nearly $15-Million In Marijuana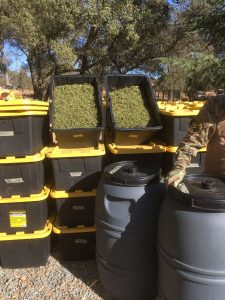 Processed marijuana seized

View Photos
Calaveras County, CA – Over 5,200 plants and 1,700 pounds of pot were seized after raids on properties in Wallace and Copperopolis this week valued at tens of millions of dollars.
The first search was carried out by the Calaveras County Sheriff's Office Marijuana Enforcement Team (MET) on Tuesday in the 5600 block of Highway 12 in Wallace. While no persons were found at the site, 858 marijuana plants with a street value of $2,000 per plant and 952 pounds of marijuana estimated at $2,500 per pound were found; equaling a total of just over $4-million. Numerous outbuildings and trailers were combed for evidence with a handgun and rifle also seized.
On Wednesday, the team turned their attention to an illegal grow in the 4400 Block of Rock Creek Road in Copperopolis. No arrests were made at this site either. Deputies discovered six large hoop houses full of growing marijuana and a large warehouse with rooms converted into indoor grows full of pot plants. There was also evidence indicating that concentrated cannabis was being made on site using butane gas, according to sheriff's officials. In all, 4376 marijuana plants, worth $8,752,000 and 788 pounds of processed marijuana at $1, 970,000 were uncovered for a total of $10,722,000.
Between the two sites, the raids netted a street value of nearly $15-million in marijuana.  With these investigations ongoing, sheriff's officials relay that no further details will be released at this time.