PG&E Setting Up Mother Lode Base Camps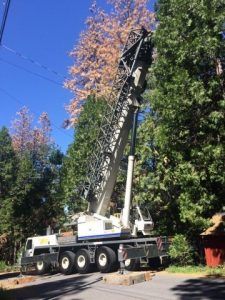 PG&E tree work

View Photos
Sonora, CA – PG&E has set up "micro sites' in three Mother Lode counties to ensure safety for customers, neighborhoods and communities through its wildfire safety program.
The base camps are in Amador, Calaveras and Tuolumne counties. The company reports that its Vegetation Management Crews will be creating even greater safety clearances between trees and power lines facing the most extreme wildfire-threat. To complete this work, PG&E has hired additional teams to conduct inspections, oversee quality control and handle additional tree work. That work is slated to be done Monday through Saturday from 8 a.m. to 5 p.m. until it is completed. The base camps will allow for worker staging, job information, complete daily safety briefings and a general gathering site.
PG&E provided these locations for its Mother Lode base camps:
Amador County: at the old Cedar Mill off Highway 88 in Pioneer
Calaveras County: on Jesus Maria Road in Mokelumne Hill and at the Fairgrounds in Angles Camp
Tuolumne County: on Camage Avenue in Sonora and at Hells Hollow in Groveland
For more information on the company's Community Wildfire Safety Program, click here.