Calaveras County Appoints New Public Works Director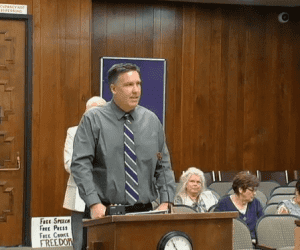 Joshua Pack Speaks To Calaveras Supervisors

View Photos
San Andreas, CA — The Calaveras County Board of Supervisors made it official and appointed Joshua Pack to serve as the next Director of Public Works and Transportation.
Pack has 19 years of experience in the public sector, most recently serving the past six years as Principle Civil Engineer in Nevada County.
He stated, "It is very similar to Calaveras County, rural, and a lot of the same issues that you are dealing with here. I oversaw both the engineering and road maintenance divisions there, and this is a logical and exciting next step for me."
Pack was praised by county staff for his energy and ability to deliver projects.
Pack replaces Jeff Crovitz who resigned in June. The vote to appoint Pack was 4-0 with supervisor Clyde Clapp absent. His first day on the job is scheduled to be October 13.