Update: Large Power Outage In Calaveras County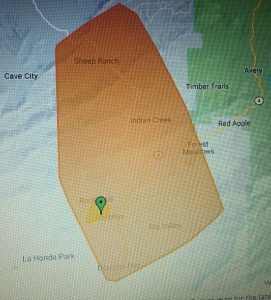 Power Outage in Murphys area

View Photos
Update at 9 p.m.: PG&E reports that all but a handful of customers have had their power restored. The lights went back on around 8:45 p.m. for most of the nearly 1,800 customers that were without power. The company did not post a cause. Several customers along Church Street near Algiers Street remain without electricity in Murphys. The utility gives a 1:48 a.m. estimated repair time.
Original post at 8 p.m.: Calaveras County, CA — Nearly 1,800 PG&E customers are without power tonight in the Murphys area.
The areas impacted include Douglas Flat, Murphys, Forest Meadows and Sheep Ranch. Viewing the map in the image box the lights in the yellow area went out around 5 p.m. for 345 customers. The larger orange area included 1427 customers that lost power around 7:30 p.m. The utility reports that crews area assessing the situation but have not yet found a cause for either outage. The company has posted an estimated restoration time of 10:30 for the smaller outage and 10:45 p.m. for the majority of customers.