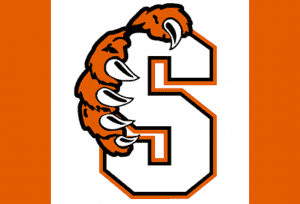 Summerville Bears logo

View Photos
Summerville Shut Out Fremont 
By: Brandon Steele
The Summerville Bears left the Fremont Tigers scoreless Friday night, 48-0. Summerville put up a season high 48 points and looked in sync the majority of the football game.
After coming off of a tough loss last week in Pitman, in fact being shut out by the Pride, the Bears slammed the door shut themselves giving up zero points through four quarters. In fact, the Fremont Tigers haven't scored a single point in four games.
Summerville's offense was rolling from the opening kick, pounding the ball up the middle, off the edge and finding themselves in the end zone. Heading into half time the score was 28-0, a platoon of Bears backs found themselves in the end zone as well. Charlie Olson, Michael Litzler, Chris Saint John and Joshua Caldrea all were in for six multiple times in this ball game.
Summerville is now 2-3, one game below the .500 margin. Summerville will travel to Argonaut next week to face off with the Mustangs in a divisional battle.
Sonora Bye-week
The Wildcats (1-4), get to rest up this weekend as the team had a bye-week. Next  will rest up to take on Bret Harte High School next Friday.
Other Games
The Bullfrogs (2-3) got the jump on the Linden Lions defeating them handily by a score of 48- 28. Calaveras High (1-3) toppled Stellar Prep of Oakland at home, 21-6. They defend their home turf next week as the Amador Buffaloes (5-0) charge onto the field.