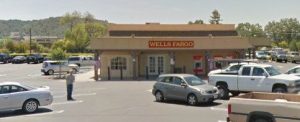 Sonora Wells Fargo Branch on Mono Way in Sonora Plaza

View Photos
Sonora, CA — The nation's third largest bank plans to carry out the job cuts over the next three years, whether that includes local branches is unclear.
Wells Fargo Chief Executive Tim Sloan made the announcement today that it will cut up to 10 percent of its workforce leaving tens of thousands of employees out of a job. The bank currently employs around 265,000 workers and confirms that most of the cuts will be achieved through both attrition and layoffs. Clarke Broadcasting contacted the local branch on Mono Way in the Sonora Plaza regarding whether any jobs were being lost. A message was left for the branch manager, who did not returned our phone call. Calls to the branch in the Junction Shopping Center also went unanswered.
Scandal has plagued the San Francisco-based bank since 2015 when it admitted its employees opened millions of fake bank accounts for customers in order to meet unrealistic sales goals. That admission led to other improprieties, including selling auto insurance to borrowers who did not need it.