Arts Funding Sparks Debate At Supervisors Meeting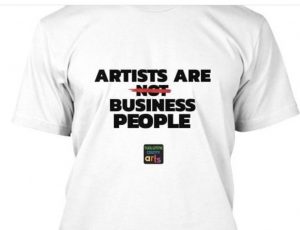 Tuolumne County Arts Alliance Merchandise Using New Slogan

View Photos
Sonora, Ca — Things got a bit heated at the Tuolumne County Board of Supervisors meeting as the board delayed until the first of the year a decision on whether to give $35,000 to the Tuolumne County Arts Alliance.
Tuolumne County Arts Alliance Executive Director Lisette Sweetland and local community arts advocate BZ Smith were both Thursday's KVML "Newsmaker of the Day".
It was one of the final items to decide ahead of approving a $240-million final budget. A dozen community members came up in support of funding the Arts Alliance. Local arts enthusiast BZ Smith led off, and noted that arts have both social and economic benefits. She stated, "The arts provide content for our own community and our visitors."
Candidate for District Three Supervisor, Laurie Sylwester, added, "The arts create destination. Music, visual arts, dance, drama, poetry, prose and photography all have brought people into our community."
One person noted that getting involved in the arts prevented her from committing suicide. Another representing the Center for a Non Violent Community spoke about the healing benefits of art.
Taking a jab at supervisor Evan Royce, Sweetland noted that the alliance has turned a statement he recently made related to artists not being business people into a slogan to help raise money. The group has started selling merchandise that reads "Artists Are Not Business People," only the word "Not" is crossed out. (See Image Box)  Sweetland urged the supervisors to continue giving funding for the arts.
At the end of the public hearing, District Two Supervisor Randy Hanvelt expressed a desire to postpone a decision about the arts money until after December when the county has a better understanding about some financial uncertainties. He noted that he especially has an affinity for the local Poetry Out Loud contest that the group helps coordinate. Supervisors Sherri Brennan and John Gray also expressed a willingness to wait until there is a clearer financial picture known. Brennan though was especially concerned about financial unknowns regarding the impacts of the Donnell and Ferguson Fires.
Royce was the lone supervisor who seemed ready to make a decision today against the arts funding. He argued passionately, "Nothing that we are doing is stopping anyone from being an artist and promoting art and having art flourish in this county. (Looking at the audience and raising his voice) That's your guy's job. Go do it!  It is not our job to pay you to be artists!"
He added, "Our infrastructure is falling apart, we are so irresponsible with the essential things we need to be doing, our forests are burning down….This is ridiculous!"
On a different matter, the board did decide today that it would like to include $37,000 in the final $240-million budget to hire a legal assistant in the County Counsel's office. Supervisor Karl Rodefer indicated that there is a back log of work that needs to be completed and the position will have far reaching benefits in the county. To make it work, $20,000 will come from the Facilities Management budget, $5,000 from the CAO's office, $5,000 from Information Technology and $7,700 from the Library.
There was also a request from ATCAA to add $22,000 in additional funding to the budget. That matter could also potentially be readdressed around the first of the year.
The "Newsmaker of the Day" is heard every weekday morning at 6:45, 7:45 and 8:45 on AM 1450 and FM 102.7 KVML.