Final Meeting For Retiring Angels Camp Police Chief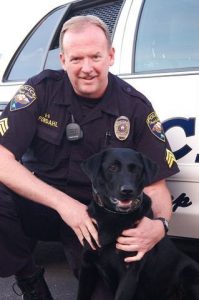 Police Chief Todd Fordahl

View Photos
Angels Camp, CA — Ahead of tonight's Angels Camp City Council meeting there will be a public reception for retiring Police Chief Todd Fordahl.
Chief Fordahl notified city officials earlier this summer that he plans to retire from his career in public safety and pursue other opportunities out of state. Fordahl was a Sgt. with the Angels Camp PD when he was asked to step into the role of Interim Chief in 2010 following the firing of Dale Mendenhall. Fordahl was later selected to become the permanent chief. The Angels Camp City Council is currently in the process of recruiting his replacement. Beginning at 5pm today there will be a reception for Fordahl at the Angels Firehouse at 1404 Vallecito Road. Then at 6pm, the city council meeting will start at the same location, and Fordahl will receive an award from Mayor Amanda Folendorf in recognition of his dedicated service.
Later in the meeting, the council will vote to eliminate the position of City Engineer/Public Works Director and reallocate the funding to the General Fund. As a cost cutting move, the city is looking to contract for services when they are deemed necessary.
Also, the council will vote to appoint Jana Bidwell to a three year term on the Museum Commission, and it will hear an annual report from Calaveras Visitors Bureau Executive Director Lisa Boulton.