Caltrans Completes $2.2-Million Project Near Long Barn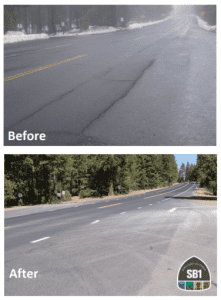 Highway 108 Project - Before and After

View Photos
Long Barn, CA — Caltrans is touting the completion of its first project in Tuolumne County that was funded by the new SB 1 gas tax revenue.
Caltrans spent $2.2-million to replace four lanes of pavement between Lyons Reservoir and Long Barn. Caltrans Director Laurie Berman says, "The completion of this project will benefit residents in the Long Barn area, as well as travelers and the businesses in that region that rely on tourism dollars to bolster their local economy. We're just scratching the surface on these initial SB 1 projects."
Local Caltrans District 10 Director Dennis Agar adds, "These mountain highway projects are critical because these roads are the lifeline for communities like Long Barn, Pinecrest, Twain Harte and others."
Caltrans notes that the stretch of Highway 108 near Long Barn sees an average of 3,100 vehicles per day. George Reed Construction was the hired contractor for the project and it took about one and half months to complete.
SB 1 was approved in 2017 and included an increase in the gas tax and vehicle licensing fees. It has been contentious legislation, and Californians will vote on a ballot measure in November whether to repeal it.