Final Budget Heading To Tuolumne County Supervisors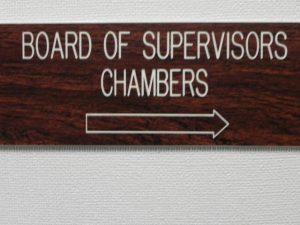 Tuolumne County Board of Supervisors Sign

View Photos
Sonora, CA — The Tuolumne County Board of Supervisors will vote on approving a final $245-million overall budget for the fiscal year that commenced on July 1. There have been many changes in the revenue projections since the preliminary budget was approved in June. Examples include the decision to move forward with a capital improvement project at the Columbia Airport, fully funding new jail construction, and a loss of $660,000 in transient occupancy tax revenue related to the Donnell and Ferguson fires.
Decisions that still need to be made on Tuesday include whether to fund $35,000 to the Tuolumne County Arts Alliance to continue its current programs, $26,000 to the Amador Tuolumne Community Action Agency (ATCAA) to help offset increasing costs and a loss in federal funding for its social net programs, and $37,200 requested by the County Counsel's office to hire a legal assistant.
Tuesday's board of supervisors meeting starts at 9am and the budget hearing will be one of the early items on the agenda. The public will have a chance to comment before the vote is taken.