100-Percent Containment Of Boot Fire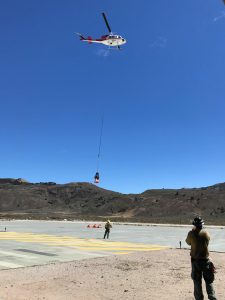 Fighting the Boot Fire in Mono Couny

View Photos
Bridgeport, CA — The Boot Fire in the Humboldt Toiyabe National Forest is now fully contained, but work continues to clean up the damage.
The fire earlier caused the closure of Highway 108 Sonora Pass and Highway 395. The incident command team was successful in protecting all residences in the area and the Marine Corps Mountain Warfare Training Center.
Firefighters will continue to work to repair areas impacted by suppression efforts. It includes pulling back displaced vegetation and duff onto bare fire lines, installing erosion control like water bars and reducing visual impacts of the fire. The incident command team also adds that unburned islands of sagebrush will help preserve existing sage-grouse habitat and natural seed bank. 150,000 gallons of fire retardant was used to protect as much area as possible. The final acreage is 6,974.