Final Budget And Camp Tawonga Improvements On Supervisors Agenda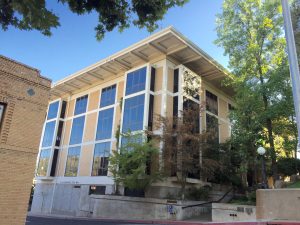 Tuolumne County Government Building

View Photos
Sonora, CA — The Tuolumne County Board of Supervisors are planning to approve a final budget on Tuesday.
We reported in June that the roughly $230-million preliminary spending plan fully covers things like the ongoing jail construction, operations of the new Juvenile Detention Facility, library and recreation offerings, public safety efforts, etc.  Some of the decisions still to be made include deciding whether to fund a $35,000 allocation to the Tuolumne County Arts Alliance, similar to years past, and additional funding requested by ATCAA.
Also, the Supervisors will hear about plans of the Tawonga Jewish Community Corporation to update Camp Tawonga. It is in the 31000 block of Mather Road in the Groveland area. The group is requesting some zone changes in relation implementing a new Master Plan over the next 10-20 years. Plans include removing some of the aging buildings and infrastructure and constructing replacements. Camp Tawonga has provided recreational programs since it was acquired by the Tawonga Jewish Community Corporation in 1964.
There will also be a presentation about road projects that could be constructed over the next 20 years with Senate Bill 1 (Gas Tax).
Tuesday's meeting starts at 9am.