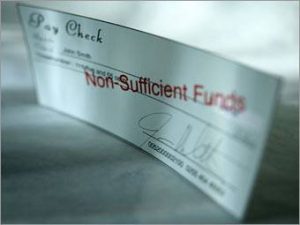 Bad check

View Photos
Sonora, CA – A Sonora man was nabbed for passing bad checks, but not before he bilked thousands out of local victims.
Sonora Police were able to catch up with 34-year-old Daniel Douglass Broadway yesterday afternoon around 3:45 p.m. after tips led to his whereabouts at a location in Tuolumne where he was taken into custody.Broadway's suspected fraud and forgery crimes stretched between August 6th and September 12th. Investigators reveal that he allegedly stole several checkbooks from a retired Nevada veteran then used them to defraud local residents. Accompanied by an unidentified female, Broadway wrote three checks totaling over $2,000. It was not until days later that the victims found out they were from a closed checking account.
Officer arrested Broadway without incident. A search found more of the stolen checks on him. He faces check fraud, forgery, identity theft, possession of stolen property and conspiracy. Broadway also had several felony warrants for similar and unrelated charges. Investigators are still trying to identity his female companion. Anyone who may be able to identify her is asked to call police at 209-532-8141.