Agency Investigating Campaign Complaints Related To Gas Tax Measure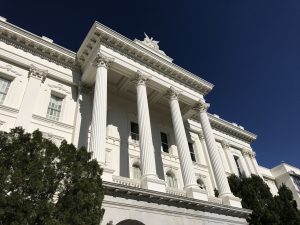 California State Capitol Building

View Photos
Sacramento, CA — The California Fair Political Practices Commission received a complaint that a group of state workers were illegally distributing fliers criticizing a ballot measure that would repeal the state's gas tax increase.
Proposition 6, which will be on the November ballot, calls for a repeal of the contentious tax hike. The FPPC has not determined whether the accusations are true, but confirms that an investigation has been initiated.
The complaint argues that campaign laws were broken because it is a violation for people employed by the state to hand out campaign fliers. Caltrans is now telling contractors not to pass out campaign information at work sites.
The Associated Press reports that Caltrans has responded that it is the agency's understanding that the people under investigation are contracted road workers doing state funded projects and not actually state employees.
The gas tax has been a big campaign issue in the Governor's race, with Republican John Cox in favor of proposed repeal and Democrat Gavin Newsom opposed.