Logging Truck Derails Historic Train; Festival Plans Still Full Steam Ahead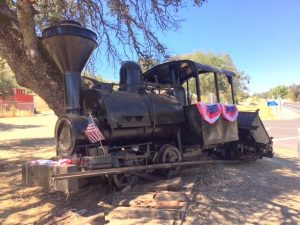 Northern Mariposa County History Center's Whistling Billy hit and derailed in accident Sept 10 2018

View Photos
Coulterville, CA – Following a freak accident a Mother Lode museum is scrambling to repair damage to a beloved landmark ahead of its annual festival less than two weeks away.
The Northern Mariposa County History Center, located in the heart of Coulterville and also known as the Coulterville Museum, counts "Whistling Billy," a circa 1860's locomotive, among its colorful Gold Rush Days artifacts. The train, which has served as a kind of official greeter for at least the past 60 years as it is located directly in front of the museum, was literally knocked off its tracks this morning around 7:30 by a logging truck loaded with logs.
CHP Sonora Unit spokesperson Officer Faustino Pulido shares that the truck driver, 63-year-old Donald Roberts of Jamestown, swerved left off Highway 49 in a failed attempt to avoid a 2013 Honda Accord that had pulled out into his travel path. After bumping the car, the truck, a 2000 Kensworth, then plowed into the train.
Train Literally Knocked Off Its Track
According to museum officials, the impact splintered the wooden tracks that Whistling Billy had been resting on, also upsetting and denting the ore cart. The locomotive came to rest in a jack-knifed position against Old Coulterville's Hanging Tree that stands behind it. To view photos they took of how Whistling Billy wound up, click into the image box slideshow.
While the truck maintained its load and its driver was able to walk away from the crash uninjured, a ground ambulance transported the Honda driver, 41-year-old Robert Gutierrez of Coulterville, to Doctors Medical Center in Modesto with moderate injuries. His two-year-old daughter Lilly was taken there by an air ambulance. Her injuries were listed as minor. Neither drugs nor alcohol were considered to be factors, according to the CHP. One-way traffic controls were in place in the area of Highways 49 and 132 for well over two hours.
Speaking with Clarke Broadcasting, MaryAnn Huff and Sharon Kingman, respectively the museum's president and bookkeeper, say that Whistling Billy has been a center point in town as long as they can remember. A gift to the community years ago from the Potosi Mine, it hauled ore back and forth between the mill and local mines during the 1860's.
Repairs Now Part Of CoyoteFest 'To Do' List
Kingman wryly notes that she wrote a check just a week ago to cover a fresh coat of paint for Billy as part of the prep for the museum's big annual CoyoteFest. A free, family-friendly fundraising event scheduled for Saturday, Sept. 22 from 10 a.m. until 4 p.m., it features among its highlights a car show, parade, and Coyote Howl Contest.
Now the two say they are scratching their heads as they do not yet have a clue about the damage and what it will take to literally get the train back on track.
Besides immediately getting to work on this most unexpected repair job, they agree that another thing is for certain; the community will come through with creative ways to help make things happen, maybe even in time for CoyoteFest, and wouldn't that be something to howl about. For more details about the museum and event, click here.