Alleged Dealers Busted With Large Cache Of Meth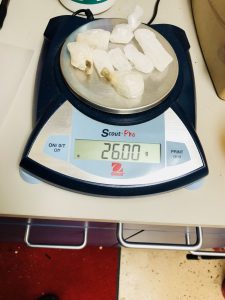 Ybarra and Kuhl arrest evidence photo

View Photos
Sonora, CA — With just over three hours until the Labor Day maximum enforcement period expired, CHP officers making a traffic stop wound up assisting in a drug bust.
According to Tuolumne County Sheriff's spokesperson Sgt. Andrea Benson, just before 9 o'clock last night the officers, who made the stop on Highway 108 near North Sunshine Road, spied a large amount of methamphetamine inside the vehicle and called deputies to help out. Responders conducting a search of the car and occupants, 18-year-old Bryton Kuhl and 49-year-old Robert Ybarra, Jr., both of Sonora, turned up 26 grams of methamphetamine, drug paraphernalia, and more than $1,000 in cash.
The two men were arrested and booked into the Tuolumne County Jail for possession and transportation of a controlled substance for sale and conspiracy to commit a crime. Each was given a bail of $40,000.