Flash Flood Warning Issued For Northeastern Tuolumne County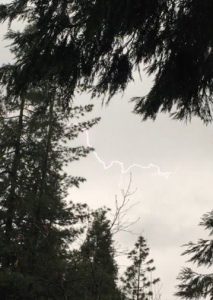 Lightning

View Photos
The National Weather Service has issued a Flash Flood Warning for northeastern Tuolumne County (in the high Sierra) and southeastern Alpine County until 6:15 PM.
Additionally, a Significant Weather Advisory has been issued for east central Mariposa County until 6:00 PM.
At 3:16 PM, Doppler Radar indicated thunderstorms with heavy rain across the Donnell Fire burn scar.
Excessive rainfall over the Donnell fire burn scar will result in debris flows. Debris flow can consist of rock, mud, vegetation and other loose materials.
Some of the locations that will experience flooding include the Dardanelle and Kennedy Meadows areas.
Flash flooding was expected to begin shortly.
At 5:07 PM, Doppler Radar was also tracking a strong thunderstorm 7 miles northeast of Yosemite South Entrance.
This storm was nearly stationary.
Nickel size hail will be possible with this storm.
Locations impacted include Yosemite South Entrance, Wawona and Mariposa Grove.
Torrential rainfall is also occurring with this storm, and may lead to localized flooding. Do not drive your vehicle through flooded roadways.
Instructions: Move away from recently burned areas. Life-threatening flooding of creeks, roads and normally dry arroyos is likely. The heavy rains will likely trigger rockslides, mudslides and debris flows in steep terrain, especially in and around these areas.