Update: Fatal Crash On Highway 49 In Calaveras County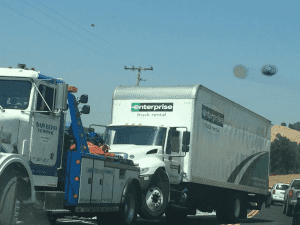 Hwy 49 accident scene back-up Sept 1 2018 near Fricot City Rd

View Photos
Update at 4:15pm: The CHP has provided more details surrounding a fatal, four-vehicle collision that occurred around 9 a.m. this morning on Highway 49 between San Andreas and Angels Camp.
According to the CHP, the incident remains under investigation and the identity of a 13-year-old female from Copperopolis who died at the scene has not been released.
Officials say that Klayton Powell, 25, of Jamestown, was headed north on Highway 49 near Fricot City Road in a 2016 Chevy Silverado and for unknown reasons traveled into the southbound lane, sideswiping a 1993 GMC Yukon being driven by 45-year-old Matthew Coldwell of Mountain Ranch. Powell's vehicle then collided with a 2000 Saturn Vue, driven by 37-year-old Daniel McCubbins of Copperopolis, which sent the Saturn down an embankment on the west side of the roadway.
Powell's truck subsequently collided with a third vehicle, a 2017 International driven by Brayan Morales, 26 of Foothill Farms, which caused Powell to overturn down a west side embankment.
McCubbins and one of his passengers, 37-year-old Jennifer McCubbins, were both airlifted to Memorial Hospital in Modesto for treatment of moderate injuries. His other passenger was the teen who sustained fatal injuries. Powell, Coldwell and Morales all sustained minor injuries but none were transported from the scene for medical attention.
The CHP reports that the entire highway was closed for about an hour and then opened up under one-way traffic control for about three hours while the accident scene was investigated. Officials add that drugs and/or alcohol are not suspected to be contributing factors in the collision.
Update at 1:20pm: Highway 49 near Fricot City Road has completely reopened to thru-traffic following a fatal collision for which details are still unavailable.
Update at 11:45am: The CHP remains at the scene of a fatal crash on Highway 49 between Angels Camp and San Andreas and have partially opened the highway.
According to CHP officials, there was at least one fatality and at least one flown to a trauma center. The accident happened near Fricot City Road. Highway 49 is now open under one-way traffic control. It is not certain how much longer the accident scene investigation will continue but it could be awhile.
Clarke Broadcasting thanks our community news partner Stephene Tune for providing images. Photos and video can be sent to news@clarkebroadcasting.com
Original Post at 9:41am: San Andreas, CA — The CHP is on the scene of a fatal crash on Highway 49 between Angels Camp and San Andreas.
Multiple vehicles are involved in the crash. It occurred near Fricot City Road. Two of the vehicles have reportedly gone down an embankment. Highway 49 will be closed for an extended period of time so you will need to avoid the area. We'll pass along more information as it becomes available.