Patients Arriving At Adventist Health Sonora's New Health Pavilion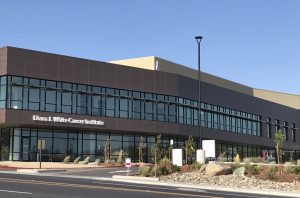 Adventist Health Sonora's new Health Pavilion and Diana J. White Cancer Institute

View Photos
Sonora, CA — The first patients are starting to receive care at Adventist Health Sonora's new Health Pavilion and Diana J. White Cancer Institute.
We reported in early August that state public health officials competed a site visit and granted the licensing necessary for the 64,000 sq. ft. facility to begin accepting patients. The first two floors are currently being utilized in a variety of ways.
Spokesperson Karen O'Brien says, "On the first floor, diagnostic imaging has moved in. It's been really exciting to have representatives from Siemens there with all the high tech equipment and showing everyone how it works. Patients are getting their exams done there. Mammography has yet to open there, but that will come later in September. All of the other services on the first floor are open."
On the second level, O'Brien adds, "Primary care medical offices are open. We have several providers there who are seeing patients. And our sports medicine and rehabilitation has moved in so they're using their big new gym space, which is great."
She concludes, "Radiation oncology, with the brand new linear accelerator has opened, and we are starting to see new patients there. The last floor to open will be the third floor, and that includes our infusion center and medical oncology, and those will open later in September."
Also of note, the lab draw station at the Outpatient Imaging Center on Covey Circle has moved to their new location adjacent to the Medical Offices on the second floor of the Health Pavilion.
Patients already receiving cancer care will finish treatment at the current facility, as medical oncology has not yet opened.
The new campus will also be utilized for the upcoming Joie de Vie Gala which helps raise money for cancer patients. Click here to view an earlier story.