Tough Night For Many Local High School Football Teams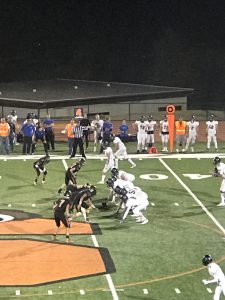 Summerville High Football

View Photos
Wildcats Fall To Escalon Cougars
By: Mark Ferreira
The Cougars scored in the first quarter on a 29 yard pass and catch. They converted the extra point to make it 7-0. Both defenses held strong as they teams went back and forth, but no further scoring would take place in the opening period.
Escalon struck again when Sophomore Luke Anderson busted in from 21 yards out and with the extra point good the Cougars took a 14-0 lead into halftime.
The third quarter had Escalon's Anderson capping a Cougar drive falling forward as he was being blasted by Wildcat defenders to squeak the ball over the goal line and with the point after attempt converted it was 21-0.
In the fourth quarter Anderson from Escalon again would rumble in from 5 years a out and the kick good, it was 28-0. Sonora would break their scoring drought when Michael McKernon would take the hand off from Jacob Gookin and go 13 yards to the end zone. The Cougars Kaidence Treio would snag a 13 yard pass late in the fourth and Escalon's point after would miss and the final score would be 34-6.
Turnovers and penalties plagued the Wildcats on Friday night, but Sonora showed signs of putting it all together in a much improved effort at Dunlavy Field.
Knights Defeat The Summerville Bears
By: Brandon Steele
Week 2 of 10 on the 2018 campaign for the Summerville Bears presented a red hot Ripon Christian Knights team who had put up scores into the 60's in their first two games. The Bears held them below that 60 point margin and found themselves playing better towards the end of this game.
Credit is due towards Ripon Christian Quaterback Cade Alger who passed for three touchdowns, also Max Steele and Michael Kamps both rushed for well over 80 yards.
Besides a safety and sluggish drives resulting in punt after punt, Summerville was able to show signs of life in the final quarter.
However, just a Chris Saint John field goal was the only three points on the board for the Bears.
The highlight of this game though came when Knights quarterback tossed a fade route to the end zone that was picked off by #24 Noah Cashman. Cashman has looked solid in coverages and has made many great tackles. This interception was picture perfect as he peaked the ball and came down with it in bounds resulting in his first interception of the season. Summerville lost this game, 30-3.
Other Scores:
Calaveras High lost to Modesto Christian 24-0 and Bret Harte defeated Delta Charter 41-0.