Thief Hits Local Church, Public's Help Needed To Catch Suspect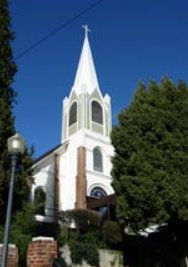 St. Patrick's Catholic Church in Sonora

View Photos
Sonora, CA – The public's help is needed to identify a thief and recover stolen property recently taken from a downtown Sonora church.
A thief was able to walk off with several items from St Patrick's Catholic Church located on 116 west Bradford Street. The theft took place Tuesday, August 21st at around 12:30 p.m. Sonora Police Sgt. Tim Wertz details what was taken, "Two stolen statues, a hundred dollars worth of stolen plaques, three gardening tools and a gate latch. The property was taken from the yard of the church. So, basically they were stolen from the yard of the church."
Unfortunately, no one at the property witnessed the theft so there is no suspect description available, according to Wertz.  Anyone with information regarding the theft, possible suspect or items stolen is asked to call the Sonora Police Department at 209-532-8141.
Wertz did not have a total cost estimate regarding all of the items taken.