Leaky Pipe To Be Replaced In Sonora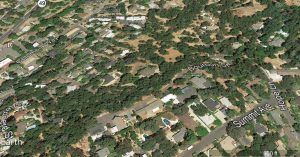 Bourbon Street main replacement map

View Photos
Sonora, CA: Residents and travelers will see plenty of personnel and equipment in downtown Sonora next week as Tuolumne Utilities District's (TUD) Bourbon Street Water Main Replacement Project gets underway next week.
Approximately 1,820 feet of new water main, which is a major feed line from the Sonora Water Treatment Plant to the City of Sonora, will be installed along Bourbon Street along Hope Lane off Highway 49 beginning Tuesday, September 4th. TUD details that the existing water main is more than 80 years old and 8-inches in diameter. It is made of cast iron, and runs through multiple properties. The main is prone to leaks and breaks, which in the past has caused flooding and in turn property damage.
At its August 28th meeting, the TUD board awarded the job to Njirich & Sons, Inc. in the amount of $324,307.75. Weather permitting, the project is expected to be completed between three to four weeks, according to TUD.