Recognize The Bike Or Rider?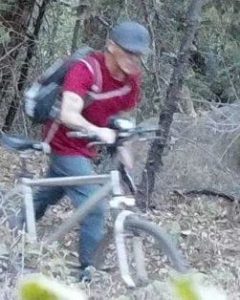 Burglary suspect

View Photos
Twain Harte, CA – Take a good look at the pictures in the image box as Tuolumne County Sheriff's officials believe he burglarized a Twain Harte garage/shop being used for storage on Wednesday.
Sheriff's dispatch was notified by the building caretaker of a possible burglary in progress when he noticed the back door open and heard someone inside. When deputies and K9 Beau arrived at the garage on Highlander Drive the burglar was long gone but there was evidence that items inside had been rummaged through.
A search of the area and nearby trails discovered stolen items on the ground. Deputies also watched surveillance video and were able to grab some photos of the suspect along with the gray mountain bike he was riding. The suspect is seen wearing a blue/gray hat, blue/gray pants, red colored t-shirt and a two tone gray backpack. He may have a tattoo on his right upper arm just below the shirt sleeve.
Anyone with information on the man, bike or burglary is asked to contact the department at 209-533-5815.