Construction on Highways 108, 120, 49 And 4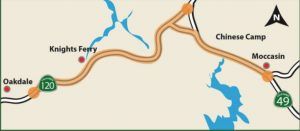 Caltrans map of work on HWY 108 and 120

View Photos
Caltrans crews continue scheduled work on Mother Lode highways this week.
Caltrans will close the connector ramp from eastbound HWY 108 to northbound HWY 49 for drainage work. The work is scheduled to occur on Monday, August 27, from 7:30AM until 3:30PM Motorists should expect 15 minute delays.
On Highway 49 from just outside of Sonora to the Stevenot Bridge over New Melones at the County line will have crews grinding down the pavement to make repairs causing 10 minute delays. The one-way traffic control will begin Sunday night at 8PM and end at 6AM all week.
Pavement work that began in April, and is expected to finish in October 2018 continues beginning Sunday. The night shift is from 7PM until 5AM and days are from 6AM to 6PM work ends Friday at 3PM. The work area is from the Stanislaus/Tuolumne county line to the Yosemite Junction and to the Moccasin Creek Bridge thru Chinese Camp as in the photo.
Work on HWY 108 Monday through Thursday from Mill Creek Campground to West of Clarks Fork Road will restrict traffic as tree are dealt with, and from Clarks Fork Road to Kennedy Meadows utility work may impact traffic, both related to the Donnell Fire.
Calaveras Projects
Monday through Friday Highway 4 will be limited to one lane from Allen Lane to Williams Street in Murphys for utility work causing 10 minute delays between 6:30AM to 5PM. Traffic will also be limited to one lane on Hwy 4 from Upper Moran Road to Big Trees Park as drainage work continues with delays between 6AM and 6PM.
On HWY 49 from Poole Station Road to HWY 12 on Thursday drainage work will limit traffic on the shoulder between 7:30AM and 1PM.
On Highway 26, drainage work from Hogan Dam Road to Nove Way and from Pine Street to Winton Road on the left shoulder will impact traffic as well all week.