Water Main Replacement Project On TUD Docket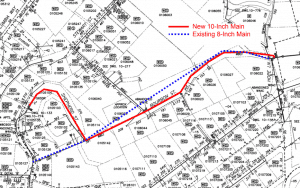 Bourbon Street Water Main Project

View Photos
Sonora, CA — The Tuolumne Utilities District will vote on awarding a $324,300 contract for a water main replacement project in Sonora.
Replacing an 80-plus year old major feedline from the Sonora Water Treatment Plant to the City of Sonora was a priority identified in the district's Capital Improvement Plan in November of 2015. The project is along Bourbon Street in the City of Sonora. The district reports that the main is prone to leaks and breaks and has caused property damage in the past due to flooding. The overall project will replace the aging cast iron main and realign a portion of it out of private property and into the public right of way along Shepherd Street. There were three project bids submitted, and Njirich and Sons, Inc. had the lowest at $324,307.
In addition, the board will hear an operational update on the water and wastewater departments, and also hear an update on issues related to the mandatory lake levels at Pinecrest Lake.
At the end of the regular session, the board will go into closed session to review candidates that have applied for the open General Manager position.
Tuesday's meeting will start at 2pm in the TUD board room at 18885 Nugget Blvd. in Sonora.